What is Safe Work Certified?
With our partner, SAFE Work Manitoba, we are pleased to offer employers in our industries the opportunity to become SAFE Work Certified.
This provincial standard is a tool to measure your safety program against, and it builds in a process of annual verification. It is built on the foundations of leadership commitment, hazard identification, risk control, and worker participation.
Each company will have their own journey towards certification, but generally it will involve getting your program put into place (if you don't already have one), taking 4 core courses through S2SA, participating in an audit-readiness gap analysis, closing any gaps, and then an external audit.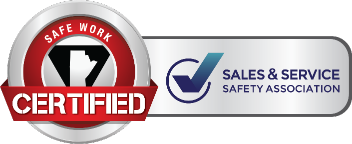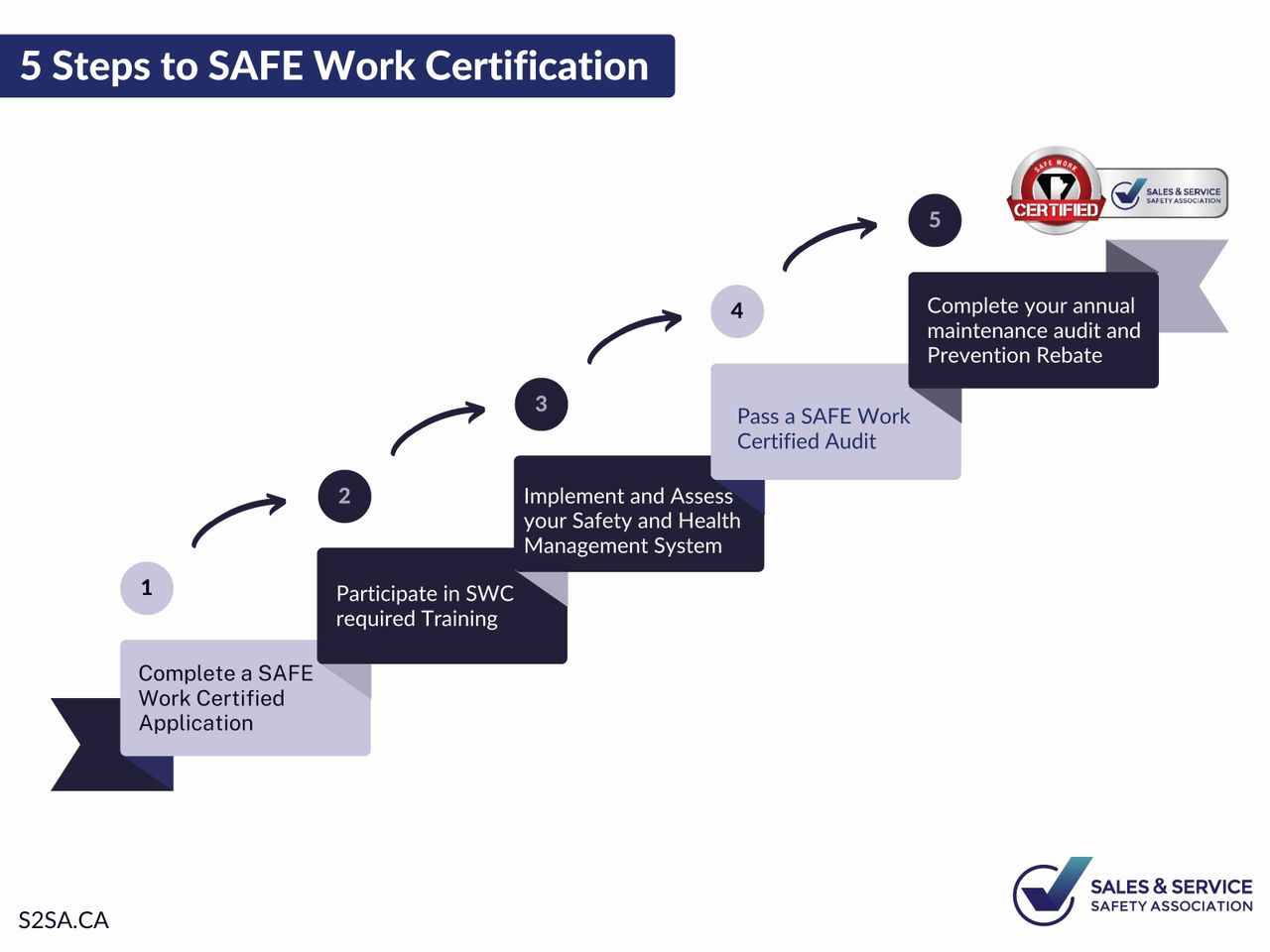 Participate in SWC required Training.

Work with your S2SA Safety advisor to identify who from your organization needs to take the training. For SAFE Work Certification, the organization needs to ensure that an employee holds a current course in each of the four required courses below;

Safety for Senior Management– to be taken by the organization's senior leader
Safety for Middle Management – to be taken by a supervisor or manager.
Safety for Committees/ Reps – to be taken by a committee member
Maintenance Auditor – to be taken by the employee submitting and conducting maintenance audits.

NOTE: This course is not required to be taken until your maintenance audit is submitted.

Implement and Assess your Safety and Health Management System

Work with your S2SA Safety Advisor to design, implement, update and/or address gaps in your safety and health management system with the goal of meeting the SAFE Work Certified standard, a safer work environment for your employees and a strong safety culture.

Pass a SAFE Work Certified Audit

Meet the requirements of a SAFE Work Certified audit to become SAFE Work Certified.
Participate in the audit performed by a SAFE Work Certified auditor.
NOTE: SAFE Work Certified is valid for three years provided annual maintenance requirements are met.
For more information, see Pass a SAFE Work Certified Audit.

Complete your annual maintenance audit and Prevention Rebate

Complete an annual maintenance audit each year before your certification anniversary to maintain your eligibility for the Prevention Rebate Program and your SAFE Work Certified status.
For example: If you became certified in June 2017, you would need to complete your maintenance audit before June 1, 2018, to be eligible for your first Prevention Rebate payment and to maintain your SAFE Work Certified status.
NOTE: Maintenance audits are conducted by your maintenance auditor(s) or a SAFE Work Certified auditor.
For more information, see Conduct an Annual Maintenance Audit.
Policies and Procedures
Audit Tool
FAQs
Once you've passed your audit, your cycle of continuous improvement begins! That involves someone inside your company doing annual check-ins (maintenance) audits for 2 years.
After you've completed your first internal check-in audit appropriately, your company will become eligible for the Prevention Rebate, which is 15% off their WCB premiums (smaller employers will receive up to a maximum of $3,000).
S2SA will help you each step of the way and will work with you to take your program to the next level.
To learn more about SAFE Work Certification and/or the services we offer call 204-779-8296 or email [email protected] to be put in contact with one of our friendly Safety Advisors.